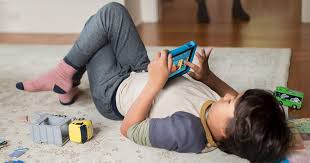 The Best Tablets for Kids In 2023-Amazon Fire HD Kids Edition Tablets
Thank You For Your Comments
Fun learning tablets are a fantastic way for children to learn how computers work. While they advance in age and experience, you need Amazon Fire HD Kids Edition Tablets as the best tablets for your kids in 2023.
 Reviews of The Best-Rated Fun Learning Tablets in 2023 By Fun Learning Device Associate
These are the most interactive, easy-to-use, and durable educational machines for kids of any age. Besides, they boast their touch-screen user-friendly, interfaces, and straightforward operating systems.
Over time, the educational tablet has been going through rigorous improvement and refinement to bring kids a better experience. Typically, your child's tablet should be a bit different from your handset.
Because it should have comprehensive parental controls activated. This will stop kids from getting access to adult-oriented websites. Furthermore, it will restrict them from making in-app purchases.
Usually, the best tablets overall double as fantastic kids' devices. All thanks to their durability and robust parental controls. Whether you are a new buyer or not, you need to consider several features before getting the best tablet for your child.
Reviews of The Best Rated Kids Tablets You Can Buy Today
1. Amazon Fire HD 8 Kids Edition — Overall best tablet for kids today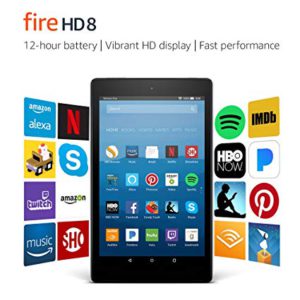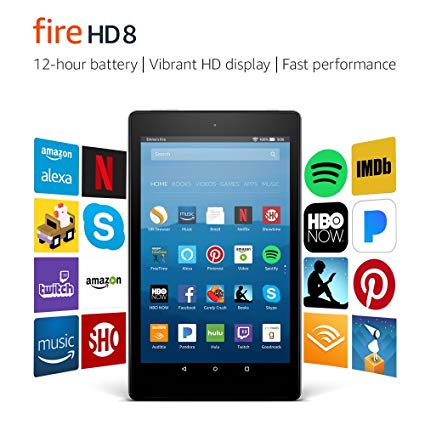 Best Place to Buy: Amazon.com
My Ratings: 4.4 out of 5 Stars
Warranty: 2-Year Manufacturer Warranty
This is the best-rated fun learning tablet for kids today. Why!
The Amazon Fire HD 8 Kids Edition gives a rubber bumper case that protects your tablet from dropping and scratching. Besides, it features a two-year no-questions-asked warranty. So, you don't have to worry about the future of your child's tablet when it develops faults.
Seeking Your Inner Spiritual Foundation? (Click Here)
Even better, the case is sturdy, with a fulfilling texture and a slight give to help the kids grip their machine better.
On the other hand, the case can be taken off and refitted without any difficulty — an excellent consideration when your child drops it regularly.
In addition to that, the Amazon Fire HD 8 Kids Edition fun learning tablet offers long battery life — hitting 10 hours and 12 minutes. Typically, the sound on the Fire HD 8 is fantastic, albeit a bit soft. Surprisingly, there is no heavy bass involved. Also, the machine boasts a bright screen, 8″ with a resolution of 1280 x 800. Above all, the fun learning tablet has a relatively reliable performance for the money.
Pros
Durable design
Long battery life
Robust parental controls
Two-year accidental-damage protection
Tons of free, age-appropriate content
Cons
2. Amazon Fire HD 10 Kids Edition — The best big kid's tablet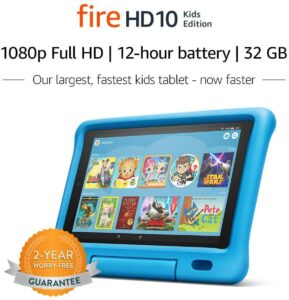 Best Place To Buy: Amazon.com
My Ratings: 4.5 out of 5 Stars
Warranty: 2-Year Worry-Free Guarantee
If you are looking for something a little bigger for your kids, then the Amazon Fire HD 10 Kids Edition is the best device for you. Usually, the machine lasts an epic 13 hours on the Original Battery. Besides, it comes packed with many parental controls plus a 2-year warranty, like its predecessor.
This tablet has a 10-inch screen that is super bright. Also, the display offers a decent color for a fantastic view of educational content. Generally, it looks great when you are watching some of the best kid's shows, such as SpongeBob SquarePants.
Aside from that, the device has a 2.0-megapixel rear and 720p selfie camera. The front camera is incredible for video chats.
With FreeTime, the parents will have control over what the kids can and cannot access. Usually, the tablet comes preset with an easy-to-navigate choice of "Parental Guidance" games and shows. Plus, you can toss in more websites and content at your discretion.
Pros
Extensive parental controls
Impressive battery life
Included 2-year warranty
Cons
Overload on Amazon content

Ordinary camera quality
3. Amazon Fire 7 Kids Edition — The Best small Amazon tablet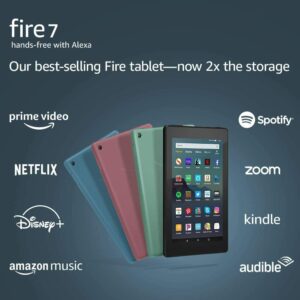 Best Place To Buy: Amazon.com
My Ratings: 4.5 out of 5 Stars
Warranty: 90-Day Limited Warranty
Amazon's cheapest gadget
The Amazon updated Fire 7 Kids tablet comes with more storage, a better Alexa, more speed, and less battery life, with a new adjustable-stand case for a hands-free content experience.
Amazon's Fire 7 Kids Edition brings the company's 7-inch budget tablet — usually $59 on its own. Furthermore, this tablet comes with a new protective bumper case and a year's subscription to Amazon's premium FreeTime Unlimited. Certainly, FreeTime Unlimited gives your child access to more than 10,000 books, educational apps, videos, and fun games curated for children.
On top of that, Amazon Fire 7 Kids Edition comes with a two-year guarantee that promises a no-questions-asked replacement in case your child destroys their tablet.
Pros
Great parental controls
Expandable storage
Two-year "Worry-Free" warranty.
Cons
What Are Amazon's Cheapest Educator-approved Tablets?
4. Amazon Fire HD 8 (2020) — The best regular Amazon tablet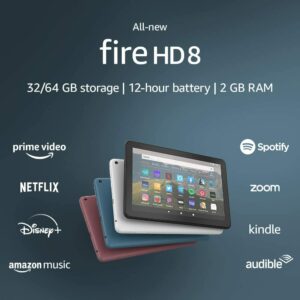 Best Place To Buy: Amazon.com
My Ratings: 4.5 out of 5 Stars
Warranty: Standard 2-Year Amazon Plan Available
If you are looking for a new, easy-to-use, and more affordable tablet, then the Amazon Fire HD 8 (2020) can be an effective deal. This is a fun learning tablet with the most notable features such as its entire battery life.
Typically, the Amazon Fire HD 8 (2020) tablet lasts up to 13 hours and 49 minutes at first, which is more than enough time to keep your child occupied throughout the day.
With Alexa technology, the Amazon Fire HD 8 (2020) can be a fantastic tool for both you and your kids. It's even better when you command this digital assistant to turn on the Show Mode. Slowly, this transforms your device into a smart display.
Consequently, if you opt for a pricier Plus model, you can prop this tablet on the included wireless charging dock. This will turn it into an Echo Show-like device. So, if you plan on teaching your child how to cook, then the show mode can be its excellent utility in the kitchen.
Probably, you can ask Alexa for a taco recipe, for instance, and a plethora of delicious recipes will appear from different websites. Also, Alexa will walk you through the step-by-step instructions for the selected recipe.
Pros
Amazing battery life
Super affordable
Fun Alexa features
Cons
The display could be better
Ad heavy
5. Amazon Fire 7 (2019) — The most affordable Amazon tablet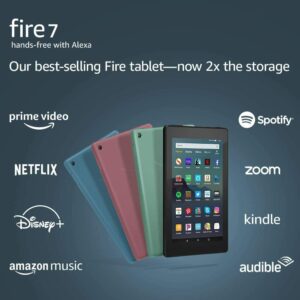 Best Place To Buy: Amazon.com
My Ratings: 4.5 out of 5 Stars
Warranty: 90-Day Limited Warranty
Amazon's cheapest gadget
If you prefer introducing your kids to a more interactive, inexpensive, and user-friendly tablet, it is difficult to say no to the low-priced $50 device. Amazon Fire tablet (2019) is one of the best fun learning handsets with more advanced and improved features, Alexa.
This is a 7" slate that offers Amazon reliable parental controls for your child's security. So, you don't need to worry about kids navigating to sites they shouldn't see. Because you can comfortably regulate all their activities without necessarily monitoring them every time.
The tablet has a 1.9-megapixel camera featured in the front and rear, acceptable for a small budget, of $50.
Pros
Hands-free Alexa
Snappy despite its price

Super cheap
Cons
Amazon ads a-plenty
Low-res display
Final Thoughts
Conclusively, getting an excellent tablet with a considerable battery life can be a great idea. This should allow web surfing over Wi-Fi at the highest nits of brightness. Generally, kids' tablets should offer an average of about 9 to 10 hours of battery life. Even better, we extensively studied the parental controls and the interface that kids would want to use every day. But can the best tablets for kids in 2023 compete with Amazon Fire HD Kids Edition Tablets?
Are You Ready To Make Your Decisions Now? (Click Here)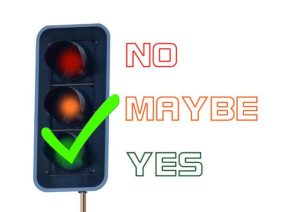 This content on The Best Tablets for Kids In 2021-Amazon Fire HD Kids Edition Tablets post has been another amazing time gathering and articulating the most relevant knowledge for your kid's early learning success.
The purpose of our blog is to produce goal-based wisdom for every parent's heartfelt wisdom in regard to their child's academic headstart in all areas. Perhaps the time is now to engage our learning blog. As you are surely a very unique person with so much to offer us all.
So don't hesitate to leave your ever-so-important and heartfelt comments below, for the sake of our children. I hope to hear from you soon, sincerely, Jack Butler founder of funlearningdevices.com
Amazons Best Sellers-(Click Here)-All Categories
Thank You For Your Comments