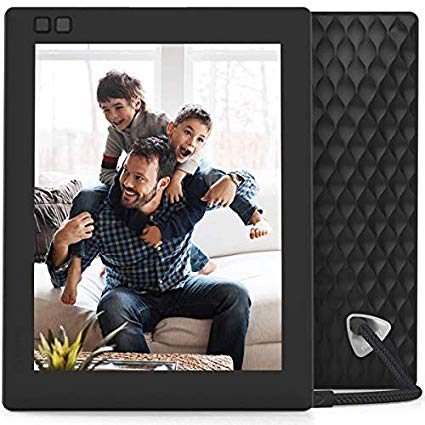 What Is The Amazon Fire Tablet? Reviewing Today's Endorsed Kid's Tablet
Thank You For Your Comments
Amazon Fire Tablets in The Most Informative Review
Aside from being the best tablet for preschoolers, Amazon Fire is a tablet with excellent performance and reliability. First of all, this tablet is a perfect choice for a fixed budget. Because it is the only educator-endorsed tablet below $50. However, what is the Amazon Fire tablet reviewing today's endorsed kid's tablet?
Although it is not the only perfect device, the Amazon Fire tablet is the best way to introduce your kids to a fun learning experience.
As technology advances, the Android system is becoming more and more essential for all learners. After its improvement, the latest Fire OS is so Android-like. That makes it easy to use. Besides, the inclusion of Fire for Kids app makes it efficient to filter out wrong content while restricting what your kids can do and how long the children can use the tablet.
Also, there are many benefits to using Amazon Fire tablets. These include the following:
Pros
The tablets are inexpensive
Easy to use
Offer age-appropriate content
Access to premium content
Kid-friendly.
However, there are some cons to this device:
Cons
Not so good cameras,
the slow performance at times,
the long charging time.

Amazon Fire 7 Full Review
Revisiting the 2015 Amazon Fire as the 5th generation of Amazon's tablet. By far it is the most inexpensive tablet.
Ever since most competitors shunned away from selling their products, Amazon has been the only go-to provider of the most decent quality budget devices for most learners. The Fire range is founded on Android OS. However, the device doesn't have Google's apps. Instead, you can use YouTube, Gmail, Maps as well as other services available on the Amazon Silk web browser. Interestingly, the features are a perfect workaround, yet not better than having the apps.
Amazon Fire Review – Colour Options and Price
While it may sound ridiculous, the Amazon Fire tablet costs less than $50. And that's the genuine price for this device. Surprisingly, the price includes 'special offers.' So you do need to pay other fees to unlock premium adverts.
Recently, Amazon added a myriad of colors to make your kids' experience more appealing: there are now Blue, Tangerine, and Magenta selections. Even better, you can now pay a small fee to double the internal storage from its original size.
Amazon Kindle Fire HD Kids Edition, You-Tube Video
Amazon Fire Review: Features and design
This isn't just a traditional tablet model with a price drop: Amazon Fire has a new design. Probably, it has moved away from the usually angled edges and chamfered rear panel. Nowadays, the tablet comes with rounded edges and corners.
When it comes to the tablets' construction, Fire has all the ports and buttons on the top edge. This is an ideal arrangement that makes them easier to access. Besides, you can get the official Amazon case in any of your favorite colors at some small fee.
The unique thing about this case is the lid that folds a bit like a picture stand. Also, it can prop up the tablet in either a portrait or a landscape orientation. Aside from that, you can buy a more rugged kids' case from your preferred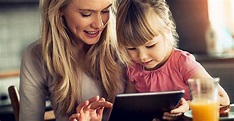 Amazon store.
Amazon Fire Tablet Review (7-inch, 5th gen)
Amazon has come a long way in intending to make education fun and interactive. After the introduction of the Amazon fire 7, this device has undergone several improvements and refinements to make them more user-friendly.
Even better the tablet's screen is an IPS panel. That implies that it's instantly superior to several budget tablets (such as virtually all kids' tablets) which poor-quality TN screens.
Having the IPS means that viewing angles are more exceptional, which is one of the essential aspects of a tablet. The device has a low resolution of 1024×600, which makes things look a bit blocky and fuzzy. However, the interface is designed around this. And in general – everything looks better than one can ever expect.
Usually, the colors are reasonable, as is brightness and contrast. Getting this tablet guarantees a lot of benefits. First of all, your child will enjoy the experience of the front and rear cameras. Secondly, there is a single rear-facing speaker along with Wi-Fi and Bluetooth. On top of that, there is one major plus: a microSD card slot. So, you can add up to 128GB by using an expandable microSD card.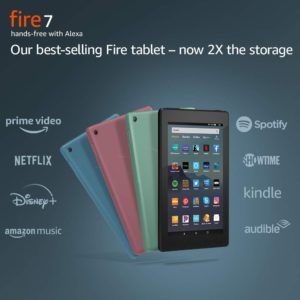 Product: Amazon Fire HD 7
Best Place to Buy: Amazon.com
My Ratings: 4.4 of 5 Stars
Warranty: 2-Year Manufacturer Warranty
Amazon Fire Review: Performance
While it comes with a quad-core 1.3GHz processor as well as a 1GB RAM, Fire tablets are a great example of how efficient technology can become. When the kids use this device, they'll enjoy a great experience of educator-endorsed content. Also, the tablet makes kids creative and more innovative.
Generally, a Fire tablet is a bit quicker than you'd expect. Besides, the operating system for this tablet – usually Fire OS 5 – feels slicker than most of the Android tablets that cost twice as much. In addition to that, the tablet takes a very short time to load the Apps. Therefore, the Fire tablet brings out a natural and even faster experience.
However, with the limited amount of RAM, you need to be careful not to run too much of the activities on the background, lest the device becomes less responsive. Also, you can enable autorotation — which allows you to view images and writings properly. Also, autorotation allows the kids to enjoy playing games at their preferred angle.
Aside from that, the battery life for this tablet is very fulfilling. According to the standard performance expected, the battery can survive for over 7 hours when used throughout the day. Besides, the tablet takes 6 hours to complete.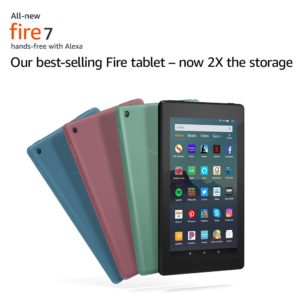 However, this can be an issue for most users.
Product: Amazon Fire HD 7, Kids Edition
 Best Place to Buy: Amazon.com
My Ratings: 4.3 of 5 Stars
Warranty: 2-Year Manufacturer Warranty
Amazon Fire Review of the Software
Amazon Fire has become an epicenter of interactive learning and kid-safe content. Ever since its inception, one of the significant improvements over previous Fire tablets' generations is its latest version of Fire OS, — version 5.
This OS is based on Android Lollipop. Thus, you will get an almost standard Android notification or the quick settings panel once you swipe down from the top of the screen. Here, you can adjust screen brightness or toggle Wi-Fi and Bluetooth on and off. Apart from that, the on-screen buttons at the bottom are similar to that of Android OS. Plus, the square icon reveals the standard Android app switcher to enable you to swipe away apps to close them.
On the other hand, this tablet allows you to create closer monitoring of the kids' experience. As a result, you can switch user accounts in the usual Android way. Probably, you only need to tap on the user's icon or photo from the notification panel or on the lock screen. The essence of this is to protect your content, especially when you are sharing the tablet with your kids. Also, you can buy one for them to share.
Conclusion
Fun learning tablets have become an essential part of an effort to make learning fun and exciting. Ever since its introduction, Amazon Fire tablets have risen to offer our kids an interactive educational process. Therefore, if your child's learning curves are giving you sleepless nights, then you may want to consider involving kid-safe educational devices. But what is the best Amazon Fire tablet reviewing today's endorsed kid's tablet?
Are You Ready To Make Your Decision? (Click Here)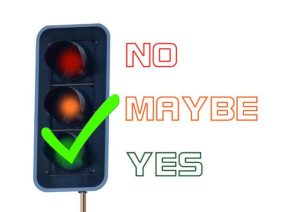 This content on what is the Amazon Fire tablet post has been another amazing time articulating the most relevant knowledge for our kid's early learning success. The goal of our blog is to deliver the most effective wisdom for you as a parent to reach your child with an educator endorsed fun learning tablet, with you at their side.
Perhaps the time is now to engage our blog? As you are surely a very unique person with so much to offer us all. So don't hesitate to leave your ever so important and heartfelt comments below, for the sake of our children.
I hope to hear from you soon, sincerely, Jack Butler, founder of funlearningdevices.com
(Click Here), Amazon Fire Tablet Store
(Click Here), For more fun learning wisdom
Thank You For Your Comments