The Best Toddler Tablet With Fun Educational Games
Thank You For Your Comments
Tablet Technology – Helping Your Child Improve With Learning
We are living in a savvy age where new technological advances are emerging vigorously and at a shocking rate. Honestly, the use of hi-tech tools is becoming more critical every day. And we cannot avoid the fact that toddlers need these gadgets just as regularly as we do. But what is the Best Toddler tablet with Fun Educational Games?
Indeed, we cannot ignore the benefits of our children having unlimited access to more knowledge on their handsets and tablets. Besides, fun learning gadgets make their education engaging and fun.
Nowadays, almost every child can get access to a smartphone or a device with similar features — a tablet or an iPad. These are the best devices with the potential to influence the kids' experience. They are a great way to acquire knowledge and skills. Besides, these are high-end tools that work as motivators of learning.
As the use of a tablet evolves, it is now possible that these tools are the best options as they can do more than just learning. Aside from education, tablets can offer our kids a better gaming experience. Besides, kids can get access to friendly online platforms for educator-endorsed content.

While technology can never replace a good teacher, the benefits of savvy learning are many. In fact, they can turn your child into a more skillful learner.
So, embracing the fact that iPads and tablets can be part of reality is a perfect way to harness the chances to assist your child's educational programs.
Since they can inevitably wait for the next fantastic technology, it is essential to improve kid's experience right from the beginning. But what is the best tablet for a toddler? Or perhaps what are the features of the best tablet for 2-year old and below?
How To Choose The Best Learning Tablet For Toddlers
The fast-rising need for savvy learning has attracted a lot of tablet brands on the market today. This now is leaving parents with the challenge of picking age-appropriate devices for their kids.
But with the right information, navigating the already-flooded market can be easy. Because you will quickly identify a suitable machine for their learning process. Are your kids 2 years old? Here's all you need to know!
Ease of Use
The best tablet for a 2-year-old child should be easy to use. While it may be evident that there are several brands with a learning curve, kids are speedily learning how to use technology nowadays. With their curiosity for knowledge, a 2-year-old child can easily find videos on their device tablet.
This is a signal that learning has become engaging. However, using tablets for elders can be difficult. Therefore, there is a need to make sure that we get the right device that kids can use easily.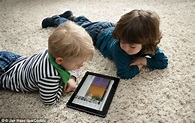 Internal Storage
How much work is the device able to accommodate. This is a significant factor to find out. Digital learning has become an integral part when it comes to storing the work. Usually, kids need more space to keep their content for revisiting or reference.
Even better, they can download and save kid-friendly games, videos, or music for fun. Nowadays, most kids' tablets have an essential internal storage capacity of 16 GB. Therefore, if you find a learning device with more excellent memory at an affordable price, then it can be a tremendous advantage.
Also, you can create additional storage space with an SD card to allow kids to store additional photos, download more apps, and still allow it to run a little faster. Whether you find a tablet with more than 16 GB or not, you can get expandable storage tools to help create more space for additional content.
Apps Available For Kids
The apps designed for kids' devices are different from the ones meant for elders. Usually, there are many learning apps available for kids. However, experts recommend that you do more research about the tablets to see preloaded apps for toddlers. This will end the possibility of the kids accessing inappropriate content.
Best (Affordable) Tablet For 2-year-old
Depending on your preference and budget, the most exclusive tablet for your toddler may differ from your neighbors' choice. However, the best device is easy to use, affordable, better internal storage, and it comes with amazing battery life. But what are the most popular fun learning tools for toddlers?
1. Contixo V8-2 Edition Android Kids Tablet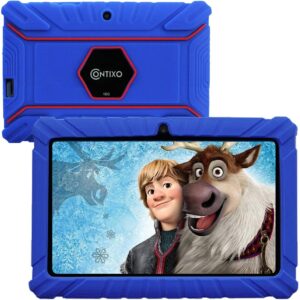 Best Place To Buy: Amazon.com
My Ratings: 4.3 of 5 Stars
Warranty: See Manufacturer Plans Available
This is one of the most affordable tablets for a 2-year-old toddler. The tablet offers lots of interactive learning options. Basically, the machine comes with 20+ pre-installed educational and learning apps that can teach, entertain, build, and grow your child in mathematics, reading, writing, music, coding.
Aside from that, this device excels at problem-solving. While today's world is technologically driven, coding is a practical skill that you need to teach your child. Because this knowledge is used and applied every day. That is why, apart from already installed apps, you can get access to the Google Play Store that has thousands of apps that can be downloaded for your kids between ages 1 to 8 years old.
Also, several parental control features allow you to manage and regulate screen time as you create custom profiles for your kids. Typically, the device will enable you to set security for kids at different age ranges while tailoring the content to their favor.
This gadget has Bluetooth, a front and rear camera, as well as 16GB of internal storage. Therefore, if you would want additional storage for more content, then you don't need to worry. That's because there is an SD slot that allows you to expand the storage up to 128 GB. This can hold a ton of videos, games, photos, and eBooks.
This tablet is tough enough to resist damage from your 2-year-old child. The machine has a tough bumper-case and shatter-safe HD touch screen. Also, it has a screen protector to keep your child entertained and learning for hours. Probably, you don't have to be worried about spills and drops.
Pros
4 hours of music streaming via Wi-Fi
Affordable
5 hours of offline video play
Shock-proof case
10 hours of reading
 Easy to use
3.5 hours of video streaming via WWiWi
Preinstalled apps
6 hours of game-play
Screen protector included
Cons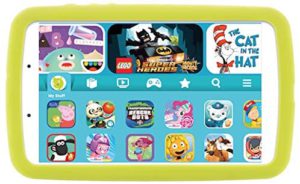 Can run slow
Exit kids mode easily
The battery drains quickly after years of use.
2. Samsung Kids Tablet
Best Place To Buy: Amazon.com
My Ratings: 4.7 of 5 Stars
Warranty: See Manufacturer Plans Available
It's one of the best tablets that will grow with your kids from a tender age. As your two-year-old toddler grows, they can continue to use this tablet. While it comes with 2GB of RAM, this fun learning tablet is also one of the fastest choices that allow web pages to load quickly.
The machine has a preinstalled park of learning games and apps designed for preschoolers. Besides, there are 10,000+ different types of games that come with the tablet out of the box. These games allow your toddler to learn vegetables, animals, clothes, fruits, and numbers… Based on the customer reviews, this device offers the best games for your toddler to explore, learn, and enjoy.
Everything is made with kids in mind. Therefore, you can relax knowing that there are zero chances of accessing inappropriate content displayed. Nevertheless, the best part is that you can set time limits to monitor and manage what the kids watch. Besides, you can exit kid mode with a password at your preferred time.
This device comes with an internal storage capacity of 32 GB. Aside from that, you can use a MicroSD slot that allows you to expand the storage up to 512 GB. Typically, that is the most extensive storage available that can cover all your child's educational needs.
Samsung Kids Tablet, You-Tube Video
It allows you to download more educational games and activities for your kids from the Google play store. On the other hand, there's a Bluetooth that will enable you to pair with headphones or sound systems for your child to enjoy their favorite shows.
Pros
Learning games preinstalled
Durable
Good battery life
Cons
3. Vankyo MatrixPad Kids Tablet
Best Place To Buy: Amazon.com
My Ratings: 4.2 of 5 Stars
Warranty: See Manufacturer Plans Available
Although this is not a well-known brand, it has got fantastic reviews from most of the users. With the Kidoz app, your child will get access to over 40,000 pre-approved video clips and 120+ channels of content for learning, play, and exploring.
This is the only tablet that exclusively offers a paintbox with more than 100 stickers for drawing and creativity. Indeed, this is a perfect fun learning device for toddlers who are passionate about coloring cartoons and animals.
Not only does the Vankyo MatrixPad Kids tablet have an HD display, but it is also equipped with eye protection technology. The function of this savvy feature is to automatically adjust and optimize the backlight for a better experience at night. This device comes with a 32 GB internal storage capacity. Besides, it has a slot for expandable memory of up to 128 GB.
The tablet has a child-proof case, which is thick to withstand possible drops by the toddlers. Also, it comes with a stand. This can also serve as a handle that allows you to carry or fit in the hands of a toddler. Besides, it comes with a ring that adjusts 360 degrees, which makes it easy to watch vertically or horizontally. So, kids can place the device on the bed, table, couch, or desk.
Pros
360° stand
Charges quickly
Kids-proof case
Higher memory
Cons
Low volume
Run slow
Best Learning Tablets For 1-Year-Olds
If you have ever traveled with a toddler under 2 years old, then you know why a regular tablet is too advanced for them. There are different learning tablets designed for kids between 12 months to 2 years old.
No matter what the age of the child, there is an ideal choice because of durability and affordability for them. These learning devices can help your kids with learning numbers, shapes, motor skills, colors, and animals.
iFun-Jr Learning Tablet for Kids
Best Place To Buy: Amazon.com
My Ratings: 4.2 of 5 Stars
Warranty: See Manufacturer
The iFun-Jr is a fun learning tablet that is designed to teach letters, objects, shapes, and music to your toddler. Usually, there are development levels that adapt as your child grows.
Besides, the machine comes with a fingerprint scanner that lights up when your kids push down. This has a textured design that makes it easier for the kids' hands to hold on.
Aside from that, the volume can be adjusted, so you are not affected by nursery sounds — we all know how annoying a device can be when you hear them repeat the same song 3005 times.
LeapFrog My First Learning Tablet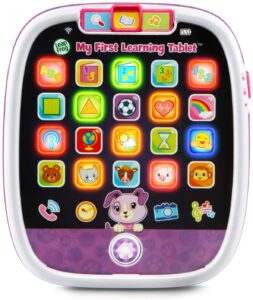 Best Place To Buy: Amazon.com
My Ratings: 4.4 of 5 Stars
Warranty: See Manufacturer
When it comes to introducing hi-tech to your child, the LeapFrog My First Learning Tablet is the most fantastic learning tablet for toddlers below 2 years old. This device comes with 25 pretend apps that tell fun facts, sings, lights up, teach foreign languages, and tells stories.
Also, it has three different modes that provide a variety of content. Therefore, your child doesn't get bored. Besides, they have interactive lights that help your toddler with patterns and motor skills.
VTech Little Apps Tablet
Best Place To Buy: Amazon.com
My Ratings: 4.5 of 5 Stars
Warranty: See Manufacturer
When you are looking for a tablet that can educate, empower, build, or grow your child's learning, then VTech Little Apps Tablet is a perfect device for that. The gadget includes a unique keyboard for kids to learn typing skills.
Aside from that, 12 learning activities are designed to help with letters, daily activities, problem-solving, and numbers. Also, the screen changes colors to excite your kids. Even better, the little friend Cody allows them to add events to their calendar, play music, and basic math.
Finally,
Ever since their coming, many people have been wondering when it is the right time to introduce kids to tech-savvy tools. However, that shouldn't be a problem. Because hi-tech learning has become a dispensable approach that everyone is needed to have.
Being savvy is no longer a requirement for adults only. Instead, everyone is required to learn and apply different savvy skills. You may be disturbed by the question about the right age to introduce or child to tablets. However, the biggest problem is what is the right tablet to give the kids below 2 years old.
Are You Ready To Make Your Decision? (Click Here)

This content on The Best Toddler Tablet With Fun Educational Games post has been another amazing time gathering and articulating the most relevant knowledge for your kid's early learning success.
The purpose of our blog is to produce goal-based wisdom for every parent's heartfelt wisdom in regards to their child's academic headstart in all area's.
Perhaps the time is now to engage our learning blog? As you are surely a very unique person with so much to offer us all.
So don't hesitate to leave your ever so important and heartfelt comments below, for the sake of our children. I hope to hear from you soon, sincerely, Jack Butler founder of funlearningdevices.com
(Click Here), For More Home Page Offers
Thank You For Your Comments