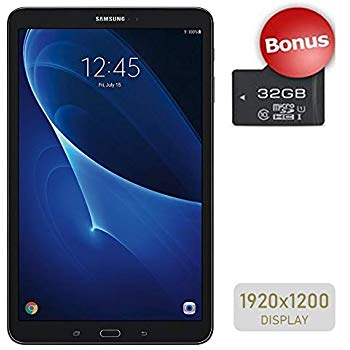 Samsung Android Tablet Enlists Children Learning Reviewing Kids Tablets
Thank You For Your Comments
Samsung Android Tablet For Kids Fun Learning Experience
Technology has brought its share of advantages and disadvantages. However, the benefits of having fun learning devices in school are many. Tablets have become the best educational tools that have created an impact on the results of the learners. But the challenge remains the same — choosing the best device for all ages.
While many tablets are aimed at equipping college students with skills and knowledge to learn, Samsung has been different. It has maintained its influence. This machine offers a significant contribution to learners at all levels. That's why Samsung android enlists children learning while reviewing kid's tablets.
Samsung devices are best for parents and instructors looking for a safer, more secure, and greatly affordable entry-level tablet. This company is known for developing high-end products with state-of-the-art technology. And that's what Samsung Galaxy Tab brings.

This is a device with a plethora of benefits. It comes with a rugged rubberized case and a long-lasting battery that can support up to 13-hours of video playback. Besides, this machine features easy-to-use parental controls, as well as a 3-month free trial of Samsung Kids.
While the Samsung Kids app content is perfectly suited for younger children, the tablet runs a full Android OS that kids can advance into.
Samsung Galaxy Tab A Kids Edition blends the configurable kid-tailored apps and functionality of the Android operating system with the content through Samsung Kids.
Features of the Samsung Galaxy Tab
This tablet is kid-sized.
It is an 8-inch rugged tablet that can support daily use.
This device features a simple and fast setup.
It comes with a 3-month free trial of Samsung Kids
Samsung Galaxy Tab A has an excellent range of games, electronic books, and superior video content that is kid-tailored and accessible through Samsung Kids subscription
It is a full Android machine with access to the kids' safe Google Play Store and Galaxy Store.
The tablet has Password protected kids' apps that are environment-friendly with easy-to-set usage limits
Aside from that, it can easily toggle between different user profiles for each child
Samsung Galaxy Tab A 10.1, You-Tube Video
Reviews For Samsung Galaxy Tab A
While it is safer, more secure, and rugged, Samsung Galaxy Tab A is a reliable tablet for kids, particularly younger ones. This tablet is reasonably priced. And it has all the features of a full Android tablet, which parents are likely already familiar with. Certainly, the device comes with the shielded and more secure Samsung Kids app, which is a significant selling point, especially for preschoolers and preteens.
It has a wide range of popular games, e-Books as well as the video content that is available to keep your kids exploring. Once they are ready to "graduate" beyond the Samsung Kids app, this tablet can easily switch to the Android OS while offering a high level of parental controls. Basically, this makes it a fantastic tablet for families with different kids of varying ages.
Settings
Setting up the Samsung Galaxy Tab A tablet out of the box can be pretty straightforward. This is an android device that breezes through the initial setup process. Here, you'll need a Google account, — meaning that you should have a Gmail address, to do this.
Once the tablet is up and running, you will need to launch the Samsung Kids app by following the setup instructions, which will guide you through the development of user-profiles for up to three children—which eases arguments in your home! The Samsung Kids app features a three-month free trial. So, you don't have to worry about signing up with payment details to access the free trial. However, it is easy to cancel if you choose to.
Product Samsung Galaxy Tab Kids Edition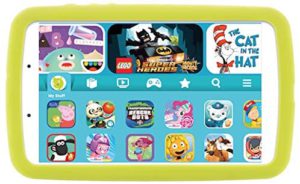 Best Place To Buy: Amazon.com
My Ratings: 4.7 of 5 Stars
Warranty: Click Above Link For Available Plans
Navigation
Overall, parents and children may find it easy to navigate the OS of the Galaxy Tab A Kids Edition tablet. Probably because it is similar to other tablets. However, some parent testers will have difficulties finding their way out of the Samsung Kids app on the go.
Ideally, the majority of the parent testers have said that the children quickly find their way around the tablet's navigation without any issues. Even better, parents, switching back and forth between Samsung and Android Kids environments is straightforward. Noteworthy, it is password-protected. Therefore, kids can't do this without parental assistance.
Screen
The ability to quickly respond to touch make the device an excellent choice to go for. This is according to the three third of parents whose kids have interacted with the gadget. The highly responsive nature of the Samsung Galaxy display makes interaction easier and incisive. For that matter, improving the rate at which the device is exploited
Features like adjustable lights are available on the device's screen. Thus, it is possible to interact with the tool at a regulated brightness. This factor improves the level of content understanding. As an eye-friendly gadget, watching movies and tablet gaming is maximally enjoyed.
Samsung Kids App
This is the most significant selling point of the Galaxy Tab A. Here your kids will get access to premium games, books, and videos. Besides, all the parent testers have expressed their joy as their kids grew much more interested in the devices. Although to most of them, there were reports of a high level of satisfaction with different content the app offers.
With a beautiful and interactive user interface — not unlike that of YouTube Kids, eBooks, gaming, and video sub-category tabs.
Product: Samsung Galaxy Tab a

Best Place To Buy: Amazon.com
My Ratings: 4.5 of 5 Stars
Warranty: See Manufacturer
You can make it easy for the kids to tap and scroll around the colorful and large icons. Consequently, the kids can enjoy familiar titles and brands such as Caillou, Peppa Pig, LEGO, My Little Pony, Crayola, and Octonauts. These offer both educational and entertaining content that keeps the kids busy for weeks on end.
Design & Ruggedness
But can it take a challenge? Two-thirds of users have awarded this device with 98% and above. All thanks to the ruggedness of the Kids tablet — which is very good, and comfortable to withstand the rigors of the kids' daily use.
The Android tablet comes with a rubber casing, which is easy to remove for cleaning and wrapping around the tablet's 8-inch aluminum body. So, adding slightly more size and weight to this device. Certainly, it is grippy, easy to hold.
In fact, none of them has complained about this device's weight or size while using it. Even for long stretches of time, you will always enjoy seeing you are getting the best of Samsung Android devices for kids. However, it is essential to note that the casing doesn't protect the screen. So, it is ideal for users to create more protection. Probably, they may want to explore the option of having an additional screen protector.
Cameras
The gadget comes with two cameras. Both of them are capable of creating full HD videos. Plus, your children can capture high-quality pictures. The dual cameras provide a platform for your children to practice photography. Photo editing programs present in the tool is essential for artistic modification of images and videos. Therefore, regular interaction with the high profiled camera of the Samsung Galaxy is key at improving the creativity of your children.
The Final Word
With enough detail of what is required for your child's excellence, Samsung Galaxy Tab wins as a perfect device. The tool provides ultimate services through its amazing features. You can bet that the device is superior when it comes to imparting content. Features like a durable battery, enough storage space, and steady WiFi are among those that make this tool success-oriented. Go no further again, select from the following tablets for your kid's smooth academic journey.
Are You Ready To Make Your Decision? (Click Here)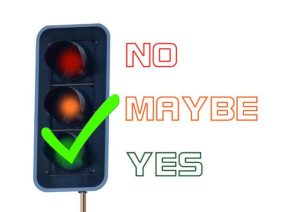 This content on the Samsung Android enlists children learning post has been another amazing time articulating the most relevant knowledge for our children's early learning success. The goal of our blog is to produce goal-based wisdom to every parent seeking their child's academic headstart.
Perhaps the time is now to engage our learning blog? As you are surely a very unique person with so much to offer us all. So don't hesitate to leave your ever so important and heartfelt comments below, for the sake of our children.
I hope to hear from you soon, sincerely, Jack Butler, founder of funlearningdevices.com
(Click Here), Amazon Fire Tablet Store
(Click Here), For more fun learning wisdom
Thank You For Your Comments