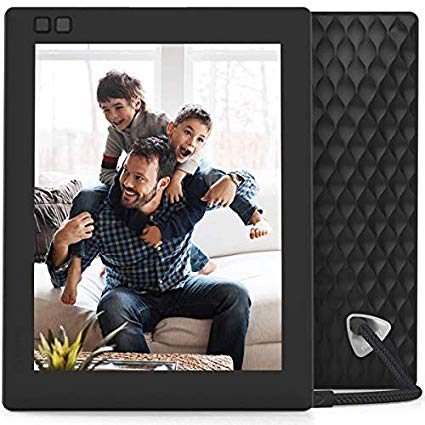 Best Kid's Tablet's: "Reviewing Amazon Fire HD Kids Edition"
Thank You For Your Comments
The Latest Review of Amazon Fire HD Kids Edition
Schooling needs to be a great experience. And that is what fun learning devices guarantee your kids. With the tools in the picture, your children will have fantastic experiences. As a result, scoring highly in class. The best kid's tablet's review Amazon Fire HD Kids Edition for your child's excellent performance.
Amazon tablets offer numerous functions. The presence of this gadget in the market is an assurance of quality. Ordering for the Amazon Kids Edition is a sign of concern for your child's superb results. To understand the benefits that come with the purchase of this brand, hold on for more information.
Amazon Kindle Fire HD Kids Edition, You-Tube Video
Reviewing Amazon Kids Edition Tablets
A review is a detailed description of the gadget of your choice. Therefore, the reason for reviewing the Amazon Kids Edition is to provide enough information concerning the gadget of your choice. For that matter, read the reviews highlighted below for decisive action.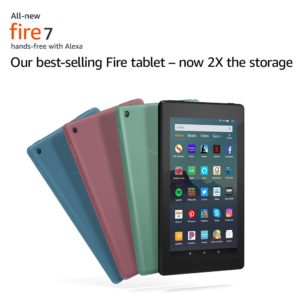 Amazon Fire HD 7 Kids Edition
 Best Place to Buy: Amazon.com
My Ratings: 4.3 of 5 Stars
Warranty: 2-Year Manufacturer Warranty
– Portability
How manageable is the device to your child? Portability is an essential factor in every situation. There is no need to order a gadget that will deny your child the joy of studying. The 7″ device is suitable for kids ranging from age 3-9 years old. Meaning from the toddler's age to the preteen age, your children will have a companion.
As an easy to carry and use the device, Amazon Fire HD 7 Kids Edition tablet offers numerous benefits. It will make your child's academic life enjoyable, plus, the platform invests in a wide range of content. Thereby, it will boost the performance of your children with immediate effect.
– Durable battery
The battery is the backbone of any hi-tech gadget. Evidently, the strength of the tablet depends on the duration of the cell. The longer the period of charge storage, the better the tablet. With the Amazon Fire HD 7 Kids Edition, your children will be glad to interact with a battery that lasts for over eight hours. This
provides an opportunity for your child to interact with the device fully. The maximum exploitation of the tool is what your kids need to offer excellent results.
– Enough storage space
There is a need for a place to keep files. This is due to the demanding nature of the academic sector. Your child is going to start having home assignments, among other tasks. Also, the need for future reference will require your kids to have a place to store the documents. Amazon Fire HD 7 Kids Edition has three storage platforms.
The first one is the internal storage space of 32 GB. Followed by the expandable storage memory, and lastly the Cloud store. With the three spaces at hand, your children can create content, download apps, and receive files from friends with no fear of insufficient room.
Pros
Parental control
Amazon FreeTime Unlimited
Enough storage space
Wifi connectivity
Cons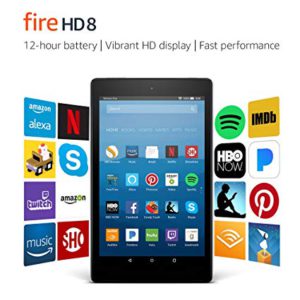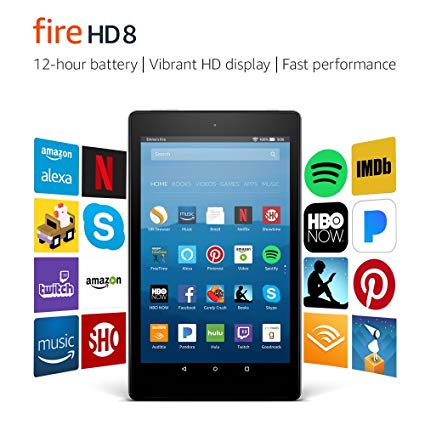 Limited transfer of content
 Amazon Fire HD 8 Kids Edition
(
Click Here)
, For The Latest Prices
Best Place to Buy: Amazon.com
My Ratings: 4.4 of 5 Stars
Warranty: 2-Year Manufacturer Warranty
– WiFi accessibility
A few years ago, no one could imagine allowing kids to surf online. But today the story is different. You can't mention class sessions without thinking of the internet. The Internet is the mother of content. Through the platform, your children can learn different topics ranging from academics and social affairs.
However, there needs to be a platform that can connect you to the internet. And that is the WiFi. Amazon Fire HD 8 Kids Edition has a stable WiFi connectivity platform. This is to make sure the online accessibility is secure, quick, and comfortable. There are no hiccups involved in the entire process of
finding online content. Your children will, therefore, have a reason to enjoy their studies plus give utmost results in their tests.
– Multitouch screen
The display plays an integral role in the operation of a digital device. Remember, the management of the entire tool is dependent on the screen. Therefore, to access any information available on the tool, you need a highly responsive screen.
Being a multitouch gadget, Amazon Fire HD 8 Kids Edition offers instant response to your child's touch. You can count this amazing response on the various sensitive spots available on display. A hypersensitive screen allows your children to have smooth gaming activities. Also, online surfing becomes easier with a quick to respond display. You can easily navigate through different sites with no fear of the tool developing glitches.
* Quick Processor and stable RAM
The duration is taken to access content matters. And this period is dictated by the available RAM and processor. With the two features, your child's interaction with the hi-tech tool becomes easier. Your kids can carry out different practices on the tool due to the quick speed of response.
The Random Access Memory dictates the swiftness to online content accessibility. Whereas the processor speed adds to the frequency of the RAM. By ordering this device, you will be saying "no" to delayed tech interactions.
Pros
Durable battery
Parental control
Quick processor
WiFi connections
Highly responsive screen
Cons
 Amazon Fire HD 10 Kids Edition
Best Place to Buy: Amazon.com
My Ratings: 4.4 of 5 Stars
Warranty: 2-Year Manufacturer Warranty
– Parental control
The tablet comes with an inbuilt parental control app. It is through this application that your kids' safety is guaranteed. Via the easy-to-use parental control app, your children's studies will be limited to educator-endorsed platforms. Through which you can be sure that your kids are interacting with what is suitable for them.
Screen time matters a lot. For that matter, limiting the duration of your child's interaction with the tablet is essential for them. Excessive exposure to the screen can pose unnecessary risks. Do you know your kids can have eye problems due to excessive exposure to bright light? To avoid falling victims of such events, use parental control apps.
Frequent accessibility to a single app or site can result in a habit. Hi-tech addiction is not advisable to kids. The situation is known to cause imbalances in your child's studies. Furthermore, handling a kid who is addicted to a specific site is costly and time-consuming. Therefore, you can use Amazon's parental control to curb the unappealing character.
Amazon FreeTime Unlimited
Are you talking about enjoying online entertainment sites? Amazon tablet comes with the Amazon FreeTime Unlimited offer. This program is a perfect match for your kids if they like surfing through the internet. There are over 20,000 apps available for your kids. Additionally, all the sites are educator-approved. Your children are safer with any app. If that is not enough, you can subscribe to the offer. Though a small fee will be charged. Meanwhile, your children can continue enjoying the offer for 12 months.
Pros
Enough space for content storage
Quick processor speed
WiFi access
Durable battery
Cons
Conclusions
Amazon tablets remain the best gadgets in the market. You can count on the tools for your child's improvement in different aspects of education. There are a number of reasons why the tablets maintain the result-oriented motto. And the secret remains in the features of the device. Choose from the following devices for your child's excellence.
Are You Ready To Make Your Decision? (Click Here)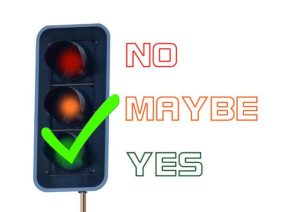 This content on the best kid's tablets reviewing Amazon Fire HD kids edition post has been a real pleasure articulating the most relevant content for your child's early learning success. The goal of our blog is to produce goal-based wisdom for every parent to establish their kid's academic headstart.
Perhaps the time is now to engage our learning blog? As you are surely a very unique person with so much to offer us all. So don't hesitate to leave your ever so important and heartfelt comments below, for the sake of our kids.
I hope to hear from you soon, sincerely, Jack Butler, founder of funlearningdevices.com
(Click Here), Amazon Fire Tablet Store
(Click Here), For more fun learning wisdom
(Click Here), For More Home Page Offers
Thank You For Your Comments